5 Benefits of Yoga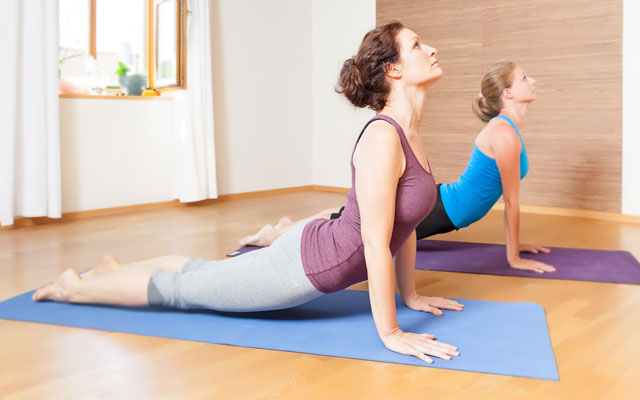 If you've ever wanted to try yoga, it's time to get out the mat.
Whether you exercise regularly or are just starting out, yoga may be the exercise for you. This mind-body exercise includes physical postures, breathing techniques, and meditation.
Say "om" for better health
By practicing yoga, you can:
Improve flexibility and strength.
Yoga stretches your muscles. Standing poses work the muscles in the lower body, and inversions, like downward dog and arm balances, strengthen the upper body.
Stand up straighter.
Many poses in yoga can strengthen the core muscles in your stomach and back. A strong core leads to better posture, which can help prevent back and neck problems.
Ease stress and anxiety levels.
Yoga involves breathing exercises that force you to pay attention to your breath. Deep breathing can help you relax almost instantly, which can help relieve stress and anxiety.
Reduce low back pain. 
Practicing yoga for several months may ease chronic low back pain, help you function better, and enrich your quality of life.
Improve sleep.
Yoga has been shown to be helpful for sleep in studies of older adults, people with arthritis, pregnant women, and other groups.*
You can get member-only discounts on yoga and other fitness equipment through the Blue365 discount program.
Get started with a free yoga class
More than one hundred styles of yoga are practiced in the United States. Ask your doctor if there are any types that you should avoid. Then find a class taught by a certified instructor. A typical yoga class consists of a warm-up, a work phase that includes flowing poses and deep stretches, a cool-down, and a final relaxation phase.  
BCBSRI members can try free in-person yoga and other fitness classes at Your Blue StoreSM locations in Cranston, East Providence, Lincoln, and Warwick. Sign up for a class at bcbsri.com/events. All fitness levels are welcome. You can also visit the BCBSRI Facebook page to find videos of the classes that you can do at home. **
*National Center for Complementary and Integrative Health
**Not all exercises are suitable for everyone and any exercise program could result in injury. Always consult with your physician before beginning an exercise program, especially if you have an existing health condition.
©2000-2022 Blue Cross and Blue Shield Association—All Rights Reserved. The Blue365 program is made available by BCBSRI in conjunction with the Blue Cross and Blue Shield Association. The Blue Cross and Blue Shield Association is an association of independent, locally operated Blue Cross and Blue Shield Plans.
Your Blue Store locations follow state and federal guidelines during emergencies. Please visit bcbsri.com/yourbluestore for the latest information.