Tips for Sticking With Exercise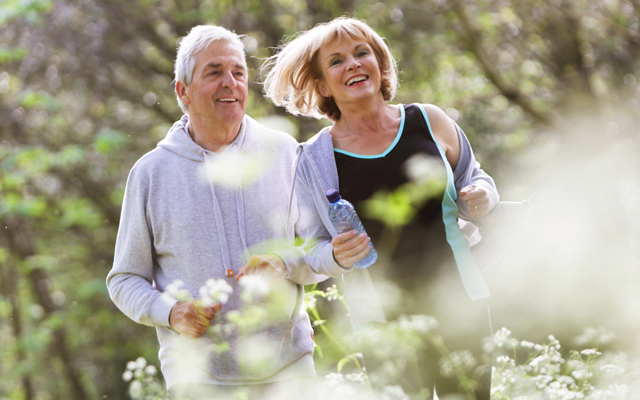 Everyone starts exercising with the best of intentions, but sticking with it for the long haul can be challenging. That's because you have to turn exercise into a habit, which experts say can take up to eight months.
So how do you stay motivated?
"In my experience, people stay with an exercise routine that is quick, fun, and has a lot of variety," says Antonio Grajo, Jr., M.Ed., a certified strength training and conditioning specialist and a HealthFitness program manager in Providence. "It also has to be realistic. If it's too hard, people tend to give up. If it's too easy, people get bored." Antonio offers these tips to help you overcome common hurdles to exercising.
HURDLE: "It's too expensive."
SOLUTION: Try low-cost alternatives.
Antonio says that simple exercises that we've been doing since childhood—such as walking, running, and jogging—are still terrific ways to get fit. And you don't need a fitness professional to correct your form.
If you want to join a gym, take advantage of the $0 national gym benefit, called Silver&Fit® that comes with your BlueCHiP for Medicare plan! Select from over 14,000 fitness centers across the country. 
HURDLE: "I'm bored."
SOLUTION: Keep experimenting.
If you don't like the treadmill or other cardio machines, mix it up! Instead, try different types of exercise—like Zumba or yoga—until you find one that's fun. A great way to experiment is through Your Blue Store Studio fitness classes, which are offered at 10:00 a.m., Monday through Friday, on the BCBSRI Facebook page. Can't make the live classes? View the videos anytime on the our Facebook page. Classes are different every day, and all fitness levels are welcome.*
HURDLE: "I don't have time anymore."
SOLUTION: Sneak in exercise whenever you can.
"Taking the stairs or walking your dog are great ways to make exercise a regular part of your day," says Antonio. "You can also get in a short workout first thing in the morning, while watching television, or during a break in your day." It can be helpful to schedule time for exercise into your calendar.
HURDLE: "I'm not seeing results."
SOLUTION: Focus on exercising itself, not the end results.
Keep in mind that noticeable changes take time, and exercise is improving your health in ways you cannot see. Regular exercise reduces stress, boosts your energy, improves your sleep, and lowers your risk of heart disease, stroke, type 2 diabetes, and certain types of cancer.
*If it's been a while since you've exercised or you have health issues or concerns, it's a good idea to talk to your doctor before starting to exercise.